In the Photoshop CC 2019 update (released in October 2018), there is a new and improved Content Aware Fill that comes with it's own workspace. 
To use the new workspace, first select the area of your image you want to fill and then choose Edit / Content-Aware Fill. You will be presented with the new workspace shown in Figure 1.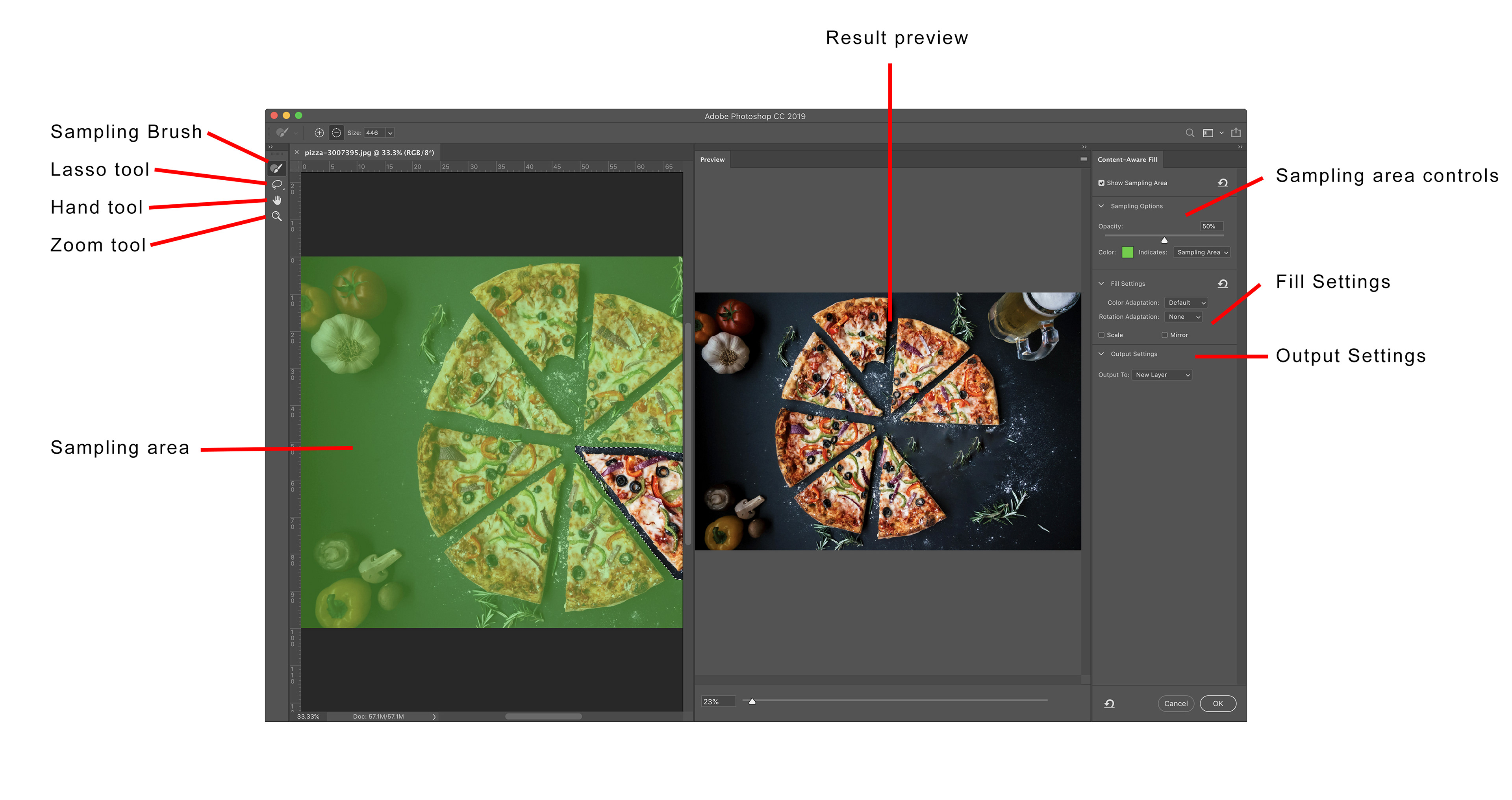 The left hand side of the screen shows you your image, and the selected part you are wishing to fill. The majority of the image will be highlighted in green (the default). This highlighted area is showing the area that Photoshop will sample from to fill your selected area. 
You can turn off the highlighted area, change it's colour and opacity or reverse it so the highlight shows the area that is excluded from sampling in the Sampling area controls at the top of the panel on the right hand side of the screen. 
The right hand side of the image window shows a preview of the image with the Content-Aware Fill applied, this preview will be updated "live" as you make modifications as described below. 
Use the Sampling Brush to modify the area of the photo that Photoshop samples from, you can modify the brush size in the Options Bar as well as using the standard brush size keys ("[" and "]"). Change the brush function between "adding to" or "subtracting from" using the Options Bar or the [Opt/Alt] key. 
Use the Lasso or Polygonal Lasso tool to add to or subtract from the selection to be filled.  Note the Options Bar where you have the standard selection tool options as well as an additional Expand / Contract option.   
Use the controls in the Fill Settings section of the control panel to modify how Photoshop fills the area; 
-    Colour adaptation affects the colours and contrast of the image and how they adapt to the fill 
-    Rotation adaptation allows Photoshop to rotate the sampled area to varying degrees -    Scale allows Photoshop to scale the sampled areas up or down
-    Mirror allows Photoshop to flip the samples areas and could be useful in images with symmetry 
Under output settings choose how Photoshop will save your changes, the options are;
-    Current layer – a destructive change is made to the current layer
-    New layer – a new blank layer is created and the changes only will be on this layer
-    Duplicate layer – a duplicate layer with the changes is saved 
Try out the new Content Aware workspace, it gives you a lot more control over this powerful feature.
This article was first published in the January 2019 issue of Artists Down Under magazine.